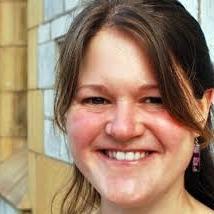 Councillor Eve Barisic, Conservative, Newton Abbot North.  'Lover of Newton Abbot' it says on Twitter profile.  Loves it so much she moved to Roscoff last year.  That's Roscoff, France.  Possibly in shame having assisted Messr Barker & Hart in closing down care homes, youth centres, etc. Most people would naturally assume this would mean resigning her position as a councillor.  I mean, she lives in another country.  But no.  Eve is a good old-fashioned Tory – continuing her role, taking her pay as a councillor, and turning up to the odd meeting.  She's contactable by email people – come on!
Standards in public life – shouldn't there be some rules about this sort of thing? This is disgraceful behaviour by any standard, but Council leader John Hart actually approves of this arrangement. The evil old sod said:
"Any councillor's personal circumstances can changing during a four-year term, particularly a young wife and mother, and these are the very people we are trying to encourage into local government.

Eve is available to her constituents by email and phone and is in her ward regularly for face-to-face meetings.

She has assured me she can continue to serve her electors. I believe it is right to give her that opportunity."
Read more: http://www.torquayheraldexpress.co.uk/France-commute-Newton-Abbot-Councillor-Eve/story-26094042-detail/story.html#ixzz3jwAYqErf
"The very people we are trying to encourage" WTF? People who get elected and then take the piss?  Yup, that's Conservative councillors. We'd make a point about bringing Devon County Council into disrepute, but it was never in repute in the first place.  A shower of self-serving barstewards.
More on Madame Barisic's efforts to represent her constituents whilst preferring the delights of a fresh croissant, here.
She's blithely faced off calls for her to resign.